Top Five Apps For Programming On Android
Top Five Apps For Programming On Android:  There are many of programs on computers/laptops for writing code .but what about on Android? There are many apps that will make your life easier while programming, whether you are just beginning, or have been programming your whole life. so maybe a few of these apps will help you be on your way to being a coding. Here are top five apps for programming on android that can help you out. Top Five Apps For Programming On Android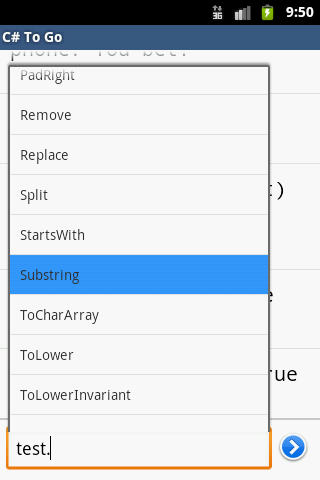 If you love C# programming so much then C# To Go app will let you do C# programming anywhere on your mobile.(Top Five Apps For Programming On Android) It is like having a mini C# compiler in your pocket. C# To Go provides various features like code completion, syntax highlighting, etc. It is also a free app which can be downloaded from google play store freely.
C4droid is a very popular and user-friendly C/C++ IDE and compiler for Android platform. You can write and run C and C++ programs directly on your phone. It is a paid app but you should give something to get something.(Top Five Apps For Programming On Android.) It is a really great application for C/C++ programmers.
Some Of Its features are: 
Offline C compiler: create your own applications on Android device and run them even without Internet access
 Source code editor with syntax highlighting, tabs, code completion, code formatting, file association and undo/redo
Export&share your programs as APKs or native executables (for terminal apps)
No root required (but C4droid can use it for your programs if you want)
Full ANSI C and ISO C99 support with TCC (Tiny C Compiler) + musl libc
Git integration
Customizable GUI, choose where to place tabs and buttons by yourself, themes are also supported.
More features with a free GCC plugin:
Fully-functional C++ compiler, almost complete C++11 support with GCC compiler
NativeActivity, Qt, SDL and SDL2 support for GUI
Debugger with breakpoints and watches
Makefile support: use the same build scripts as on your PC (BusyBox is included)
Semi-automatic open-source library porting feature for enhanced programming & education
CppDroid is another simple free app with C/C++ IDE and compiler for android devices. It is mainly focused on learning programming languages and libraries. it is very easy to use also.You can use CppDroid for free without any charges and I promise that must-have features will be free. Top Five Apps For Programming On Android
But you can purchase advanced paid features to make programming really pleasant:
Some Of Its features are:-
 file and tutorial navigator (variables, methods, etc)
 static analysis
 smart syntax highlighting
 portrait/landscape UI
 auto indentation and auto pairing (configurable)
 configurable code syntax highlighting (themes)
 compile C/C++ code (no root required)
 works offline (built-in compiler, no internet connection required)
great C/C++ code examples included
 detailed C++ tutorial and learn guide included
 add-ons manager and auto updates
 Dropbox support
 Google Drive support
AIDE is an IDE for developing real Android apps directly on Android device. If you are an android or java developer then AIDE is a great app for you. It also allows C and C++ development. In short, it is an all in one IDE which allows you to develop Android, Java, C and C++ projects on your mobile. AIDE also provide lessons that will help to learn Android app development and Java programming. Below are some of its important features.
Some Of Its features are:-
Interactive lessons for Android, Java, and Game development
Edit, compile and run code with a single click. No root access is required.
Debug Android Java apps and Java Console apps
Real-time error checking, Code Refactoring
Code completion and syntax highlighting Dropbox integration
QPython is a script engine that runs Python scripts and projects on Android devices. It contains the Python interpreter, console, editor, and the SL4A Library for Android. It offers a great development kit which lets you easily develop Python projects and scripts on your phone.
Some Of Its features are:-
[ Main Features ]
 Supports Python programming on Android including web apps, games, and SL4A programming etc
Run Python scripts/projects on Android devices
 Can execute Python code & files from QRCode
 QEdit lets you create/edit Python scripts/projects easily
 Includes many useful python libraries
 Support pip[[ Programming Features ]]
Supports Web App programming, which let you develop mobile apps with web development framework,
this speeds up your mobile development greatly
Supports native UI programming, which let you develop games more easily by using scripts
 Supports SL4A programming to access Android's features: network, Bluetooth, GPS, and more
So, thank you guys. This much for today. I hope that you have known about Top Five Apps For Programming On Android. So, if you like and wanna share more your views please do so in the comment section below.
Related Posts: